It's not the size of her apartment that makes Kitty's life big; it's the size of her appetite for life.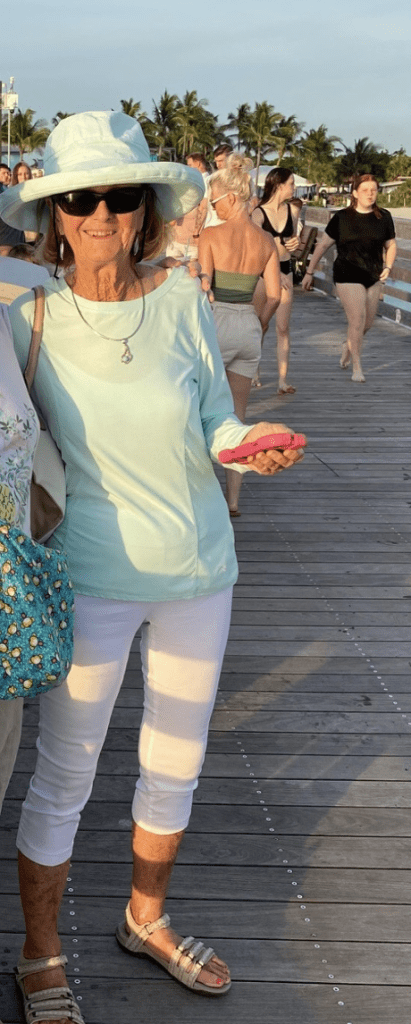 Kitty Ramey is one of four friends (Holly, Rahye and Toni are the other three) who moved from their condos on the island of Venice, FL, to Village On The Isle. While their apartments are different sizes, they all share an outsized appetite for fun that adds several acres of beautiful, amenity-filled "living space" (our campus) to each of their homes.
The Secret To Living Large in Retirement
"We're all very involved because the people here are so friendly.
Holly's an artist and is heavily involved in the woodworking and art departments.
Rahye runs the library in the Trinity neighborhood.
Toni just moved in and plans to join the sewing group here, among other things.
I'm more of a sporty, athletic, outdoorsy type. I haven't figured out exactly what I'm going to volunteer for yet because my schedule's already pretty full, but it'll be something," Kitty explains.
"Pretty full" is an understatement. "I play Pokeno on Monday, Mahjong on Tuesday, dominoes on Wednesday, bingo on Friday, Saturday and Sunday," she adds. "Every Sunday, we have a big event, a big brunch, about 10 or 12 of us … so we're very active."
So exactly why is she that busy after only living in the community for two weeks? "It's not that I'm special or anything; I just put myself out there. It's a lot more fun than sitting around your apartment."
But Kitty also needs her private time. "The turtle is my spirit animal because I go out, and I'm doing stuff. But I'm a ponderer, so I do like my private time. Everybody enjoys their privacy, which is important, and they honor it here."
594 Square Feet of (Affordable) Peace
While Village On The Isle offers many styles and sizes of maintenance-free residences, Kitty chose a one-bedroom Cocoa floor plan in Matthew Hall because "I wanted every room to have a purpose. I moved from a two-bedroom, one-bath villa with two rooms I never used. Everything I wanted to bring fits in here perfectly."
But 594 square feet?
"It sounds scary small, but it isn't," she explains. These apartments are surprisingly bigger than people think. I have more closet space here than I did in the villa. With the way they do closets and storage here, there's more than enough space."
Kitty's place features a full-size kitchen with stainless steel appliances, quartz countertops and very deep cabinets for storage. Her large full bathroom with walk-in shower also has ample storage.
The bright, open-concept layout flows naturally from the kitchen to a large living room, which opens onto her lanai, which adds outdoor space more than big enough for chairs, a table and several plants.
On the other side of the living room wall is an equally large bedroom with a wall of windows and a large closet. Just outside the large bathroom suite ("you could have a dance party") is the laundry room.
While some new residents customize their homes with new countertops, cabinets and flooring, Kitty was pleased with what she found. "They do a beautiful … I don't mean a good job, but a beautiful job with interiors here. I often catch myself looking around and thinking about what great taste they have."
Kitty found a lot to love in her new home, including its lower monthly fee. "… the lower you can start, the better," she says.
Rightsizing: "It feels great. It feels light."
Moving to a senior living community like Village On The Isle almost invariably means getting rid of things, which is much easier said than done—especially when they carry sentimental value. Kitty has "rightsized" her life twice and is familiar with its logistical and emotional benefits. "What we've all found is that you never miss anything you give away. We say to each other, 'Remember that thing I didn't want to let go of? I hadn't even thought about it since I've moved.'"
When asked how it feels to be on the other side of the rightsizing process, Kitty smiles and says, "It feels great. It feels light."
Rightsizing can be intimidating, but never fear—help is here. Our Move-in Coordinator Carol Muldowney, can put you in touch with experts in your area who can help. She'll also work hand-in-hand with you to help make the move-in process as smooth as it can be.
If the idea of a full, fun, secure and maintenance-free life at Venice's only not-for-profit Life Plan Community appeals to you, come see the places, meet the people and feel the energy of Village On The Isle for yourself.
Schedule your visit or learn more today by calling 941-202-4451.